Eucommia does have potential as a nutritional supplement as, unlike many other plants, it is active at relatively low oral dosages of 3,000mg or less (plant dry weight).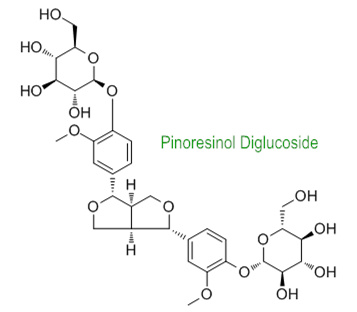 Pinoresinol Diglucoside is one of the major lignans with various pharmacological activities which could be isolated from Duzhong and other plant species.
CAS No. 63902-38-5
Formula: C32H42O16
Pinoresinol diglucoside, Eucommia bark Extract is not clear exactly how this plant burns fat or the molecules that mediate this effect, but currently the PPAR system is implicated and acute doses of the supplement have been confirmed to increase heat production in rats. The fat loss (or more accurately, anti-obese) effects of the plant in animal models is surprisingly potent among nutritional supplements.

Pinoresinol Diglucoside Alleviates oxLDL-Induced Dysfunction in Human Umbilical Vein Endothelial Cells
*The Information had not been evaluated by the Food and Drug Administration, only for reference.