Macleaya Cordata belongs to the family papaveraceae, is a poisonous herb native to China and Japan. It is a perennial plant, with deep lobed leaves and dusty clouds of tiny blossom at the tips of erect stems, most often a white color. Maclearya Cordata owns thousand years history of medicinal usage in China. Useful Ingredients in Macleaya Cordata Extract, Sanguinarine, chelerythrine, protopine, α-Allocryptopine, β-Allocrytopine, bocconoline, chelirubine, sanguirtrine. oxysanguinarine, dehydroeicanthifoline, bocconoline, berberine, coptisine, corysamine.
Sanguinarine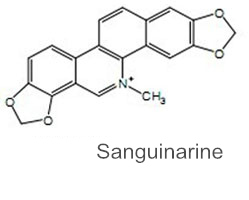 Sanguinarine is a toxic quaternary ammonium salt from the group of benzylisoquinoline alkaloids. Sanguinarine is extracted from some plants, including bloodroot (Sanguinaria Canadesis), Mexican prickle poppy Argemone mexicana, Chelidonium majus and macleaya Cordata. Sanguinarine is also found in the root, stem and leaves of the opim poppy but no in the capsule. Sanguinarine is a toxin that kills animal cells through its action on the Na+-K+- ATPase transmembrance protein.
CAS No.: 2447-54-3
Molecular Formula: C20H14NO4+
Molecular Weight: 332.32946
Chelerythrine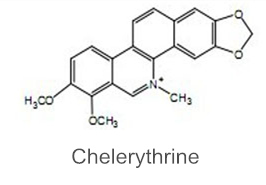 Chelerythrine is a benzophenanthridine alkaloid present in the plant Chelidonum Majus (greater celandine). Chelerythrine is a potent, selective and cell-permeable protein kinase C inhibitor in vitro. Chelerythrine is also found in the plants Zanthoxylum clavaherculis and Zanthoxylum rhoifolium, exhibiting antibacterial activity against Staphylococcus anreus and other human pathogens.
CAS No.: 54316-15-9
Molecular Formula: C21H18NO4+
Molecular Weight: 348.37192
Buy Macleaya Cordata Extract- Sanguinarine, Chelerythrine from RDHealthIngredients
Product
Specification
Macleaya Cordata Extract
– Sanguinarine
– Chelerythrine
Latin Name: Macleaya cordata (Willd.) R. Br.
Plant Family: Papaveraceae
Part of Used: Fruit/ Seed
Specification: Total Alkaloid 60% (Sanguinarine 38%-42%, Chelerythrine 18%-22% )
Appearance: Orange Red fine Powder
Water Solubility: 100% soluble
Applications:
1. In China a few institutes have been making the field study on Macleaya Extract.
2. In USA, EPA has been made a very clear description on Maclearya Extract pesticie Standard extract in 2002, and considered this product as the Green Plant Pesticide, and the recommended dosage is about 0.5%- 1%.
Storage and Package: Keep in cool and dry place of room temperature, out of direct light and heat; in 25kg/drum, plastic bag inside, or 1kg/aluminum foil bag;
Shelf life: 24 months within proper storage.
Fill out our form or request chart below or contact Sales Manager to request wholesale prices or a complimentary sample of any of our wholesale products., or directly E-mail us, via sales06@health-ingredients.com