Active hexose correlated Compound is the extract obtained by culturing mycelia of basidiomycete (mushrooms) in large-scale tanks for a long time. Though it was difficult to culture basidiomycete mycelia (mushrooms) for longer period of time up to now, it was achieved by performing this process on Active Hexose Correlated Compound under culture conditions in aseptically maintained facilities.
Active Hexose Correlated Compound Composition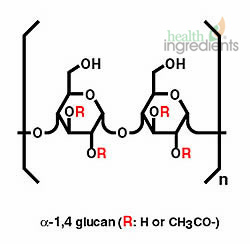 Generally, although β-glucan is the main component of mushroom products, elements that are not seen elsewhere are obtained in Active Hexose Correlated Compound with the unique production method.
Main component of Active Hexose Correlated Compound is acetylated α-glucan.
Acetylated α-glucan is of a comparatively lower molecular weight (mean molecular weight of about 5000) and since the molecular weight of β- glucan is from ten thousand to half a million, α- glucan is easier to absorb than β- glucan. Besides this, various elements obtained from the cultivation and fermentation reaction of basidiomycete are included in Active Hexose Correlated Compound.
In case of Active Hexose Correlated Compound, basidiomycete mycelia are cultivated for a longer period of time and contain the peculiar elements of Active Hexose Correlated Compound produced by the reacting the enzymes produced from basidiomycete with various elements. Existence of several new elements other than partially acetylated α-glucan is confirmed in Active Hexose Correlated Compound.
Buy AHCC from RDHealthIngredients
Product
Specification
Active Hexose Correlated Compound
AHCC
Water Soluble

Part of Used: Mycelium
Raw Material: Reishi, Maitake, Shiitake etc.
Hot Water and Ethanol Solvent extraction
Testing method: megazyme
10%, 20%, 30%, 40%, 50%
Certificate: Halal, Kosher, Food Grade
Active Hexose Correlated Compound
Application: AHCC has been widely applied in Health Supplement, herbal capsule, herbal blend, Tea bag, function food.
Storage and Package: Keep in cool and dry place, out of direct light and heat; in 25kg/drum, plastic bag inside, or 1kg/aluminum foil bag;
Shelf life: 24 months within proper storage.
Fill out our form or request chart below or contact Sales Manager to request wholesale prices or a complimentary sample of any of our wholesale products.
Related Products