Aconite Root has anti-inflammatory effects, which is mainly grown in a very cold area. Being used in sweating profusely with body temperature dropping; muscle spasm in cholera; instand sweating, afraid of cold in case of yang deficient; pain and cold in chest abdomen, chronic diarrhea due to spleen deficient, chronic muscle or joint pain due to wind cold dampness, tightness and pain in joints and muscles; edema and coldness in the lower legs due to kidney deficient.
Lappaconitine hydrobromide is an alkaloid isolated from the root of Aconltitum sinomantanum Nakai. Has a strong analgesic activity that does not involve the opioid receptor. It was shown to have class-I antiarrhythmic action and irreversibly blocks cloned human heart (hH1) channels by binding to the site 2 receptor.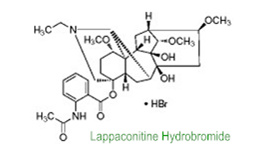 Synonym: LAPPACONITINE;acetyl-10-deoxysepaconitine;N-Acetylpuberanidine;Aconitane-4,8,9-triol, 20-ethyl-1,14,16-trimethoxy-, 4-[2-(acetylamino)benzoate], (1α,14α,16β)-;Lappaconitine
CAS No.: 97792-45-5
Molecular formula: C32H44N2O8.HBr
Buy Lappaconitine hydrobromide from RDHealthIngredients
Product
Specification
Lappaconitine hydrobromide
98%
Pharamceutical Grade
Botanic Source: Aconitum sinomontanum Nakai.
Part of Used: Root and Rhizomes
Appearance: White Crystal
Quantitative determination of the total alkaloids in terms lappaconitine hydrobromide and dry substance
Lappaconitine Hydrobromide
Application: Lappaconitine hydrobromide is mainly applied in Pharmaceutical industry.
Storage and Package: Keep in cool and dry place of 25℃ temperature, out of direct light and heat; in 25kg/drum, plastic bag inside, or 1kg/aluminum foil bag;
Shelf life: 24 months within proper storage.
Lappaconitine Hydrobromide
Fill out our form or request chart below or contact Sales Manager to request wholesale prices or a complimentary sample of any of our wholesale products.